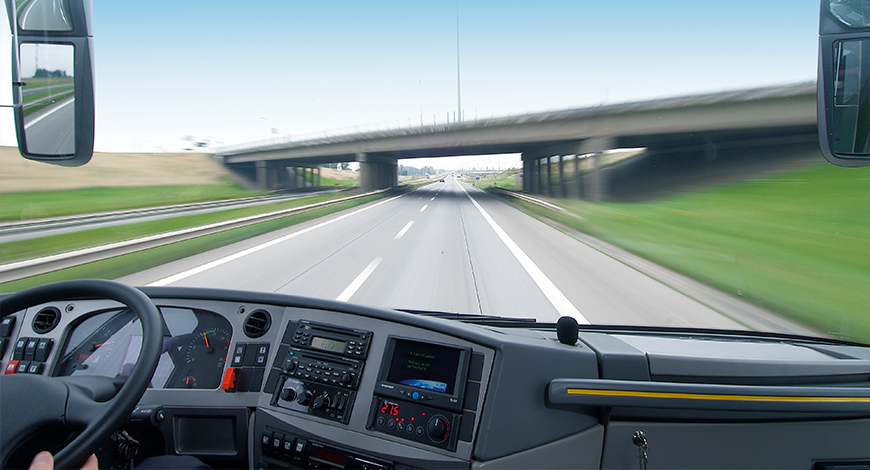 Inspiring performance and retaining talent
Keeping drivers happy, satisfied, and reassured can have far reaching benefits for Fleet Managers. Hence the importance of dialing up the control, visibility, and problem resolution capabilities they enjoy – and creating a work environment that inspires them.
There can be any number of boxes a Fleet Manager wants to see ticked when sourcing refrigeration equipment. Think cost, performance, service support etc. But where on the list does driver comfort appear?
For some it ranks high. While others can see the topic lost amid more immediate concerns around driving revenue. The one thing that most can agree on however is that keeping drivers happy has become increasingly important.
According to the International Road Transport Union there is:
A driver shortage of 21% in freight transportation

More than three quarters of drivers believe working conditions/long periods away may deter new entrants to the profession

The average age of drivers is 44, with the UK alone estimated to be 'losing' 50 a day
Making a big difference
Putting the emphasis on driver comfort, and creating a satisfying work environment, is therefore going to become an important 'differentiator' for transport companies. The question of course is how?
Any answer is going to involve a number of separate factors. So, let's focus on one specific area: the temperature control unit. Looking at this piece of equipment from a driver's perspective, it's technology that can make a big difference if able to offer:
Greater control and ease of use

Quiet operation when the vehicle is on the road and at rest

Proactive insights and automated problem resolution

Real-time support for responding to problems

Reliable, no-hassle breakdown and service assistance
Let's take a look at each of these in turn.
G
reater control and ease of use
No driver wants to complete a complex training course before interacting with a unit. The emphasis should instead be on providing access to a powerful yet simple to use interface, with an intuitive display.
Further stress can be taken out of a driver's life if the unit also gives them accurate temperature control. There are many elements to a journey that can't be controlled of course – ambient temperature and traffic volume being two. That's why a unit should be easily reconfigurable on the fly and support a more proactive approach to load protection.
Quiet operation when the vehicle is on the road
As many a long-distance driver will testify, their cabin is also their office. It can also be their bedroom, which means the noise of a unit when running is going to be important.
At Thermo King we've rigorously tested our units. The results showed that a typical SLXi Whisper Pro comes in at 60 decibels. That's just above bird song, and 5 decibels below the noise of a normal conversation.
As a result, your driver can get a good night's sleep without the soft 'thrumming' of the unit in the background. Better still the Whisper range also includes a PIEK-certified version that complies with the most stringent noise abatement standards. That's quiet!
Proactive insights and problem resolution
There's a lot a driver has to contend with when out on the road – particularly if the journey includes last mile deliveries in urban areas. From noise limitations to low emission zones, it can be hard to keep track of what needs to happen, where and when (as brought to life by the driver 'Bob' in this Thermotopia VR video).
What's the answer? How about capabilities that enable:
Automated switching between diesel and electric drives when entering geo-fenced restriction zones

Detailed alarm codes that detail both problem and next course of action

Telematics such as Thermo King Connected Solutions to guide route selection and provide advance warnings on a range of potential issues
Real-time support for responding to problems
Telematics can be great news for drivers. With them come the ability to monitor temperatures inside a trailer, fuel levels, door openings, and any number of key operational metrics (insight magnified by performance-based apps).
Most importantly they offer additional assistance for drivers, and connect them back to the central office in real-time. That means a wider, remote audience able to monitor transport conditions able to spot issues in real-time, react to alarms, and provide proactive guidance.
This is an important consideration when it comes to that most precious of metrics: uptime. With telematics in place, maintenance and servicing become a routine process. Problem resolution is also streamlined, allowing the driver to focus more on delivering on time every time.
Reliable, no-hassle breakdown and service assistance
Arguably the biggest hassle in the life of a driver is when either the trailer or the refrigeration unit breaks down. This can occur at the depot, but equally out on a distant road, miles from any garage or workshop.
Speed to resolution is obviously the most important factor here, which is why Thermo King has invested so heavily in its international Dealer Service Network to ensure:
Whenever a customer is out on the road, skilled technicians are typically never more than 2 hours away

This support is available 24/7/365 and spans all of Europe

Dealers are fully trained and certified to get you back up and running ASAP
Keep your drivers happy and on top of their game
Focusing on driver comfort is a must for large Fleet Managers wanting to retain their best staff and attract the top available talent. Refrigeration units play an important role in this regard, and can contribute to a more productive and contented driver.