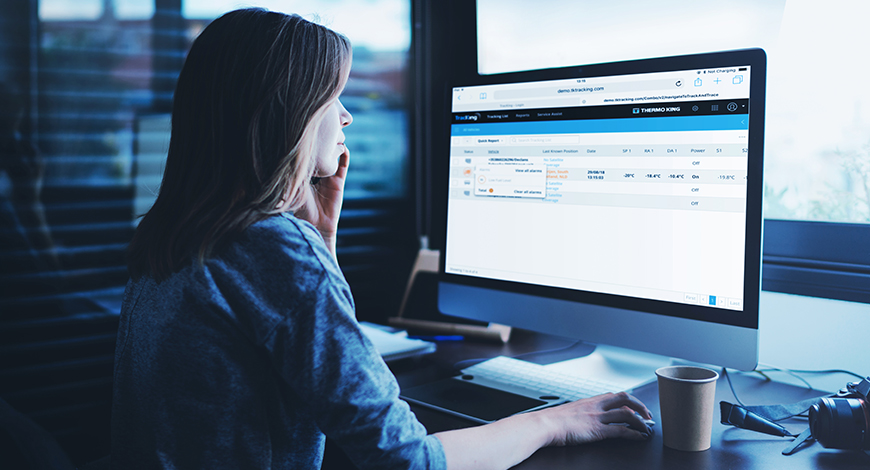 The value of Connected Solutions
Data. We all know its importance, and that the cold chain of the future will be a fully 'data-driven' endeavor. The question for most fleet owners however is what should we be doing with data today?  What data should we spend time collecting? And how can we exploit it to inspire a smarter operation?
Bigger challenges need smarter operations
The first thing to know is that data represents for transporters a way to operate smarter, become more profitable, and to address a number of key market challenges:
The growth of regulation – and meeting ever-changing expectations around how refrigerated goods are transported, tracked, and delivered.

A changing competitive landscape – which is placing the emphasis on smarter delivery models and finding more cost-effective ways to transport goods.

Evolving customer demands – where the 'always-on' customer wants their orders fulfilled 'now', and will reward those who can deliver.
Gathering the facts
Luckily your business is never going to be short on data! Every activity, load, and delivery generates a 'data record' specific events:
Load temperature per vehicle/reefer

Door openings by location and duration

Location and the time of arriving/leaving

Fuel usage, routes taken, and engine hours
Within this constant stream of data can be found the hard facts that, after a little analysis, provide a host of insights into the operational 'big picture'. The challenge is that this information can often remain buried deep. Telematics is there to bring it to the surface.
Real-world benefits where you need them most
For transport managers, telematics is ultimately about visibility. It's about giving you a real-time view of the location and condition of each journey, as well as immediate alerts should a problem arise, and the data needed to pursue more cost-effective vehicle maintenance.
The value, in other words, is not in the data but in the insights made available to help you:
Maximize reefer uptime, by monitoring data to identify potential issues before they manifest as a problem (breakdowns etc.) – and supporting proactive maintenance schedules.

Optimize fleet assets, with the goal of keeping vehicles working and generating invoices, rather than sitting idle. It's here that telematics gives you the control needed to optimize fleet movements, and to reallocate resources when problems arise.

Address cargo compliance, and traceability, by demonstrating the temperature of a load at any time during transit. In addition, telematics provides data on all door openings and location to aid both load and driver security.

Manage fuel costs, starting with route optimization, and ensuring fuel-efficient journeys. Plus, you can uncover issues to do with driver training or vehicle performance that further impact fuel consumption – as well detecting instances of fuel theft.
The options for success
Responsiveness, flexibility, and insight: this is the promise behind data and greater fleet connectivity. That's why Thermo King has developed a comprehensive Connected Solutions (telematics) offering.
Apart from our TracKing platform, which integrates and shows all relevant data in one easy to use platform, you have options such as:
TouchPrint (independent data logger)

TempuTrak (data on location, door openings, and temperature)

TrailerTrak (location data for dry containers)
Note that new trailer units already come with a BlueBox device installed, which sends both location, temperature and other data to the TracKing platform once activated.
In addition, our Connected Solutions offering also includes a web service option, enabling customers to send their Thermo King data to third parties – without the need for any additional hardware or installation costs.
Start your journey to Connected Solutions
If you have an SLXi trailer unit or later, there are three simple steps to start your journey with Connected Solutions.
Activate your TracKing subscription

Work with your dealer to set the system up

Add units when you're ready
In other words: there's no need for any additional installation, and between your dealer and our instructional videos you'll have all you need to turn data into actionable insights!
Want to read more about telematics? Click here for more information